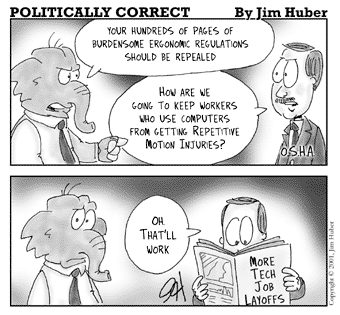 Riding the train this morning I happened to peek at a fellow passenger's Wall Street Journal and spied upon some great articles...
First, a front page article on layoffs...if you hear rumors they may be coming, here's some advice on what to do:
click here
And with this advice, some thoughts should emerge for HR professionals on how to handle those types of situations. One of my friends worked for a large fashion company that had been rumored to be on the brink of bankruptcy. One of the actions taken by the company's management--that shocked him and others--was to fire one employee whose only misstep was talking about the rumors going around about the company. They said he was a poison to the company and got rid of him. A few days later, the company filed for bankruptcy and a lot more employees went. But if the company had not filed, that sole decision would have been viewed as a warning (whether right or wrong) to other employees who would think about discussing the rumors among themselves at work...
The Career Journal then gives some advice for those pushed to part-time work--make the most of it:
click here
Next, a topic we've talked about in the past on this blog, workplace bullying takes center stage again as they reference a recent United States court case:
click here
Lastly, an interesting article about summer jobs--selling knives--positioned with a great title:
click here
Enjoy!